In the form designer, click + Add visible field, then choose barcode as the field type.
barcode: scans a barcode. To use this field type on Android devices, you must install QR & Barcode Reader app onto each device (no extra app is needed on iOS). For generating barcodes in bulk, you might consider using the OnMerge Barcode product to generate barcodes in Microsoft Word.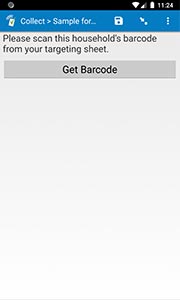 In the spreadsheet form definition:
| | | |
| --- | --- | --- |
| type | name | label |
| barcode | fieldname | question text |
Previewing fields and appearances
Click the hyperlinked field type above – or a hyperlinked appearance style, if any – to see a preview of the field or appearance in SurveyCTO Collect.